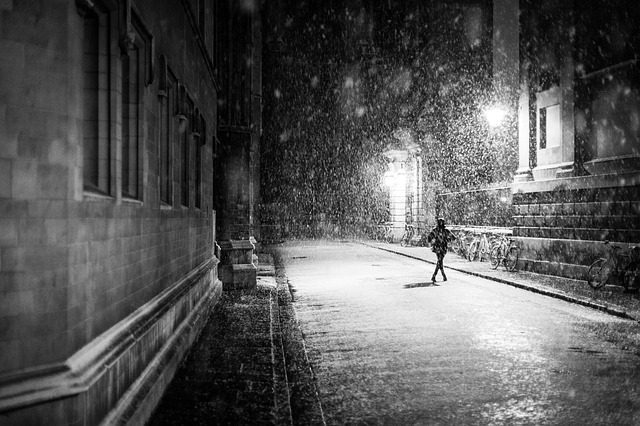 On the night they met, my Grandmother told my Grandfather that he was crazy.
I'm pretty sure she told him that many more times over the course of their life together, but that night was the first – at least that's how I remember the story.
My Grandparents were practically babies when they met – 14 and 15, I believe. They met on a snowy New Year's Eve in an alley downtown in a year when it was still safe to walk down an alley downtown after dark. A different time… She and her friends were supposed to meet up with some boys they knew at a New Year's Eve gathering, but either someone didn't show or the plans changed so the girls left. He was walking around town with his friends, "looking to find some gals" when the two groups crossed paths in that alley.
My favorite version of their story is the one he told so many times…
"I thought she was really pretty so I asked her if she wanted to walk around a little. She said yes. So we walked around in the snow a little, then we smooched a little, then we walked a little more. When I dropped her off at her house, we smooched a little more right there on the front step. I told her I was going to marry her and she told me I was crazy."
Whenever one of us would ask what happened next, he would always say, "I married her. And I was crazy. Crazy about her and I still am."
He really was crazy about her from that moment until the day they married, right after she graduated from high school. The wedding was planned in about a week because they were in a bit of a hurry.  It was 1944 – war time – and he was being shipped out soon.
The first three years of their marriage were spent apart. It's a scenario I still find hard to imagine…seventeen, a new bride, left behind to wait and pray for the husband fighting overseas. When he returned home to stay, they were finally able to begin their life and their family.
They were married for 64 years, all of them lived together in her childhood home. We all grew up there – five children, and later ten grandchildren and six great-grandchildren. That was the home where we knew holidays and Sunday dinners and long swims in the pool.
He was still crazy about her through all of their years together and they had a standing date each New Year's Eve. How they spent their evening varied…sometimes a dinner date or a dance, sometimes a quiet evening at home. One year they spent the evening at a hospital welcoming their first child into the world and another they spent watching fireworks from a hospital window while she was there for physical therapy after surgery. But no matter what they did, they always spent New Year's Eve together.
He died a mere ten months after she did, but I think most of us know that a part of him really died the moment she took her last breath. He was buried on a snowy New Year's Eve afternoon in the cemetery across the street from their home where he kissed her goodnight all those years ago. It was perfect, really. I like to think he knew he had a standing date that night with his girl and he had no intention of not keeping it. I imagine them, in the snow, walking a little and smooching a little just as they did that first night and still just as crazy in love.