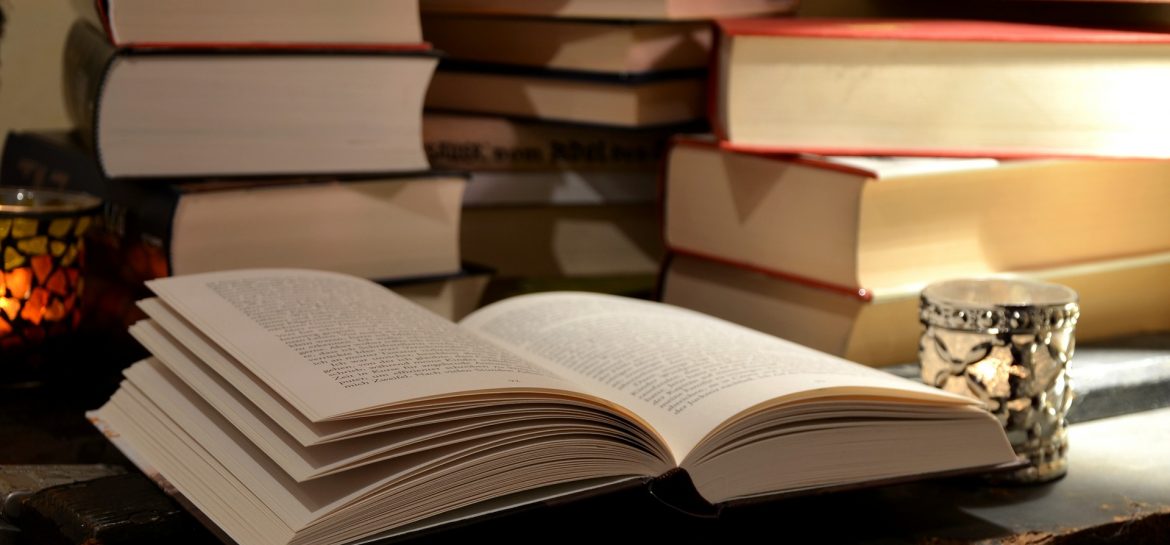 I don't think I've ever posted a TToT quite this late in the weekend.
I've been doing all the things this week and through the weekend and like this awesome camouflaged Rotten Cat, I'm pretty tired. I need to wrap it up and get some sleep.
But I'm here and I'm doing it but it will definitely be short and sweet. Follow, please…
Our daughter celebrated her first Sacrament of Reconciliation today. She was so excited and prepared all weekend for her special day – outfit, a little cake, etc. The service was nice and I cried my eyes out a little when the kids sang their song about peace. she was so happy with the way the day went. We had a nice celebration after and Zilla told me more than once that it was the Best Day Ever.
I love that is finding such joy in receiving the Sacraments and experiencing God's love in that way. And I love that is so delighted to be with her family. That is a wonderful thing. Check out this very sweet First Reconciliation banner she designed and we made together – construction paper and kitchen twine. So sweet. And the colors matched the icing on her little cake (plus we added some purple words).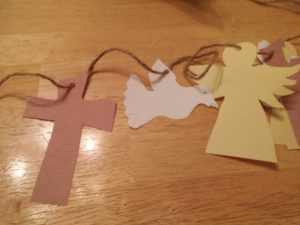 Also? Speaking of cake…I am SO happy our amazing local supermarket's bakery is now exclusively using all-natural food colors for their decorated baked goods. Yup. As in no artificial dyes. So our girl can have colored flowers on her cake or on the beautiful cupcakes they make there. More stores should do this, seriously. And the icing flowers? Not bitter. Amazing. This dye-free family is thrilled.
Writing. I've been doing more of it, both on the blog and off, and I did some things this week that I thought were good. I'd love to do some shameless promotion here and give you a link to click, but I am so very tired. Be a love and just click back to the last two previous posts maybe and check them out? Thanks.
I'm very glad to have pushed a rough deadline off my desk this weekend. Whew! Of course I have a job waiting in the wings right behind it that got sorely neglected this week, but thankfully that has a much softer deadline and I can plug away at that tomorrow. But definitely tomorrow…
OH! Almost forgot! (you can't tell but I came back to this paragraph after I almost hit publish.I may be about to secure an pretty decent ongoing contract (as in paid), so fingers and all other body parts crossed, please and thank you.
These guys – my Rottens. Because who wouldn't love three Rotten Cats sitting on the edge of their desk helping them get stuff done? Right after the photo the middle one left because the other two didn't want to play the Slug My Brother in the Head game on the wall. Party poopers.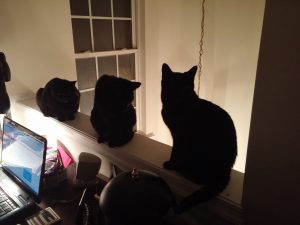 Anyone who caught my delightful appearance on the Friday vidchat knows I am seriously lacking in proper sleep habits and have been for about two weeks now. I have been living a very backwards life, working in the mornings, taking short sleeps around lunchtime, then working a full "shift" so to speak all night long. It's not a good schedule for this house. Not at all. I'm feeling the effects big time so at this point – while I'm certain I'm missing many more things to add –  I'm going to call this finished.
Yup. It's a blow a kiss to the Seven Guard Virgins kind of week. I don't even have the energy to dance and I'm certain my company manners are not even remotely making an appearance tonight. The SGV saw my poor tired face and pulled out the BoSR/SBoR to the part that says any TToT participants who have been taking names and kicking ass the last couple of weeks and need their rest can please proceed directly to bedtime.
I'm there. I'm thankful. And I'm out.
~~~~~~~~~~~~~~~~~~~~~~~~~~~~~~~~~~~~~~~~~~~~~~~~~~
Share your thankfuls, friends. You know the drill – share 'em or link 'em. I'll see you on the other side of a really long and good night's sleep. If I owe you a read or a comment reply or anything else, hit me up Monday, OK? xo
<a href=" https://summat2thinkon.wordpress.com/ten-things-of-thankful/ " target="_blank"><img src=" https://summat2thinkon.files.wordpress.com/2015/06/10thankful-banner.jpg?w=700?w=700″ alt="Ten Things of Thankful" style="border:none;" /></a>
Your hosts
Join the Ten Things of Thankful Facebook Group