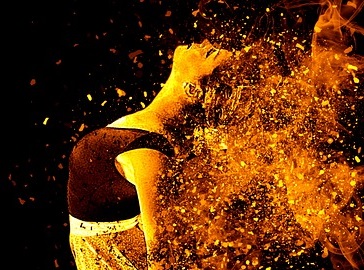 I can no longer feel my body.
I still have one, but I stopped being aware of its familiar boundaries some time ago; perhaps I no longer have need of its restrictive comfort. My mind no longer obliged to the limitations of the light, I release myself to the freedom of the darkness, surprised at the expansiveness of my own mind.
I vow to return here and explore in greater depth, to venture down each outstretched corridor, to move through every locked door, to leave no shadowed corner alone.
For now, though, there is much for a new-found spirit to do and I must be about my work at once.
With one fluid motion, I rise.
~~~~~~~~~~~~~~~~~~~~~~~~~~~~~~~~~~~~~~~~~~~~~~~~~~
Join us at Ivy Walker's blog for Six Sentence Stories. Each week writers are challenged to spin a tale in six sentences – no more, no less. This week's cue is…FLUID.
Click on the link right here to read some great stories and poems and share your own!