It's birthday time again!
Well, it was. Tuesday was my birthday and it was quite possibly the most absurd one I've had in a while – maybe ever.
The day started off fine and quite as usual with a Happy Birthday text from Super Sister at 12:01 AM. Always. I love it. I am thankful for that little ping on my phone in the middle of the night every year. Later in the day, I got to see my Mom for a while. It always feels kind of right to spend some time with the person who is responsible for getting you here. I'm thankful for my Mom for so many reasons.
We still have balloons left from Zilla's birthday celebration a couple of weeks ago. Yay. It's been kind of birthday central here all month, so that was cool. I can be thankful for decorations that were already in place and make the house feel fun and festive!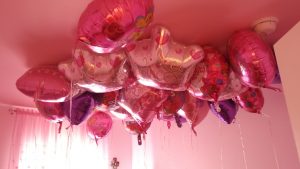 Continue reading →