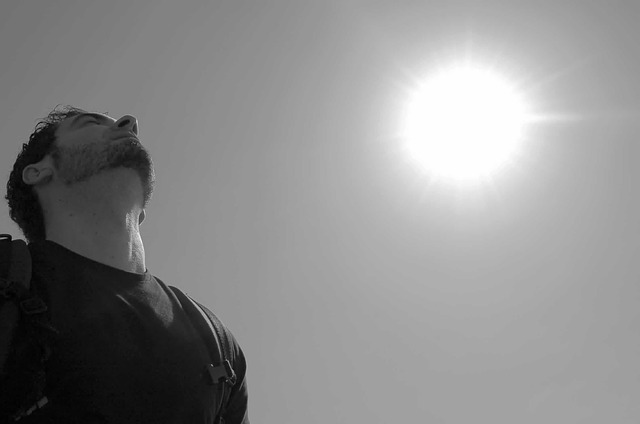 It is difficult to write about blessings in the midst of tragedy.
I've fought with with my words for this piece and three others all morning, searching for a way to reconcile the half-written drafts with the fresh feelings of sadness that have taken residence in my heart this morning after news of the suspected terrorist attack in Manchester.
What right do I have to reflect on my blessings when others this morning are broken and blessing, perhaps, are the last things on their mind. I hardly expect that I would find it easy to do were I in their place. But if we can't recall our blessings in times of sadness and need, in times of tragedy and pain, what good are they at any other moment? I can't help but think of Job, faithful to God always, even in the face of great loss. Is it easy? No. Absolutely not.
It's easy to post messages of hate and revenge and despair this morning, to vow that we will never forgive and speak all manner of negativity. But that's exactly what evil wants. I don't know about you, but I don't think evil should have its day. Not now. Not ever.
Maybe the best thing to do today – for any of us – is to remember to breathe. It's an involuntary action – no thought or effort is required, really. It's not like we can actually forget to breathe. But in the midst of great stress, we do sort of forget that essential action. To bring focus to something as simple and necessary as breath is to bring focus to life. It gives us a moment to pause, to think, and then to continue living. And that is precisely what we need to do. Continue living.
Life around here lately has been a whirlwind of sorts. I find myself thinking often that there isn't a moment to breathe. We are busy. We are juggling all kinds of stress – the positive and negative kinds. As we near the end of the school year, though, life does become less hectic. We find ourselves lately with more time to play and relax in the evening as homework assignments become less hefty. I am thankful for the gift of time, of later sunsets, and of longer walks in the evening.
It is the time of year to clean out, purge, and organize. We are in the midst of that here. It is time to clean out the garage, tidy up the yard, sell or donate the things we no longer need, and make room to breathe as we simplify our physical surroundings. It is so much easier to be at peace when there isn't clutter around. Staying ahead of it is a challenge, but we're well on our way. I am thankful that we are moving toward the time of year when life is less structured and demanding. I look forward to the feeling of freedom that summer brings and the slower pace nature seems to expect of us as the days grow long and warm.
I am thankful for the opportunity and the ability to learn. Right now the Hub is pursuing further education in his field and I am doing the same in mine. The ability to do much of it at home and online is a great benefit, allowing us to spend more time raising our daughter and more time together as a family. I am always thankful that my daughter has a great love for learning. It serves her well and she is learning young the benefits of an interested mind and spirit coupled with a strong work ethic. Her school year has been tremendously positive in so many ways. She is thriving. We are happy and blessed.
I am thankful for inspiration. My Husband in particular always manages to offer inspiration for my writing – even when he thinks he's simply being funny. I am grateful every day for his unyielding support of me and of my work – and Zilla's, too. There is nothing like having your biggest fans in your corner, cheering you on every step of the way.
And I can't lie – I'm pretty happy that I have more room to breathe in my clothes lately. Healthy lifestyle choices make a huge difference in physical, mental, and spiritual health and that leads to so many great things.
As much as we are very deep in the throes of working toward our goals, it definitely feels like things are moving along more comfortably, that we are not as constricted or limited in possibility. We are making way for what is coming, preparing for changes and transitions in each of our lives. What lies ahead is going to be amazing, but so is each step of the journey along the way.
Maybe today that is important to remember – that life is a journey and the entire thing is beautiful, not only when the road is smooth, and even as we travel across the rough sections. Not every day ends well. Bad things happen. Tragedy strikes. And we do suffer – each and every one of us.  But I truly believe it is in these moments that we must, more than any other time, be keenly and fully aware of the good that exists in the world and of the blessings that we have.
So I am thankful that I was able to kiss my beautiful child on the cheek as she slept last night, even as mothers across an ocean would not. I kissed her for them. I am thankful that I can hold my child a little longer and a little tighter today and I will do it because they cannot. I am thankful for every breath she takes. I am thankful for every breath of mine that I find taken away by what IS good and beautiful in this world.
Pause for a moment. Breathe. Then continue living…
~~~~~~~~~~~~~~~~~~~~~~~~~~~~~~~~~~~~~~~~~~~~~~~~~~
Join the Ten Things of Thankful hop to celebrate the blessings in your life. The link-up is open each weekend from Thursday though Tuesday evening.
Click on the link in the image below to find this week's posts and link your own!