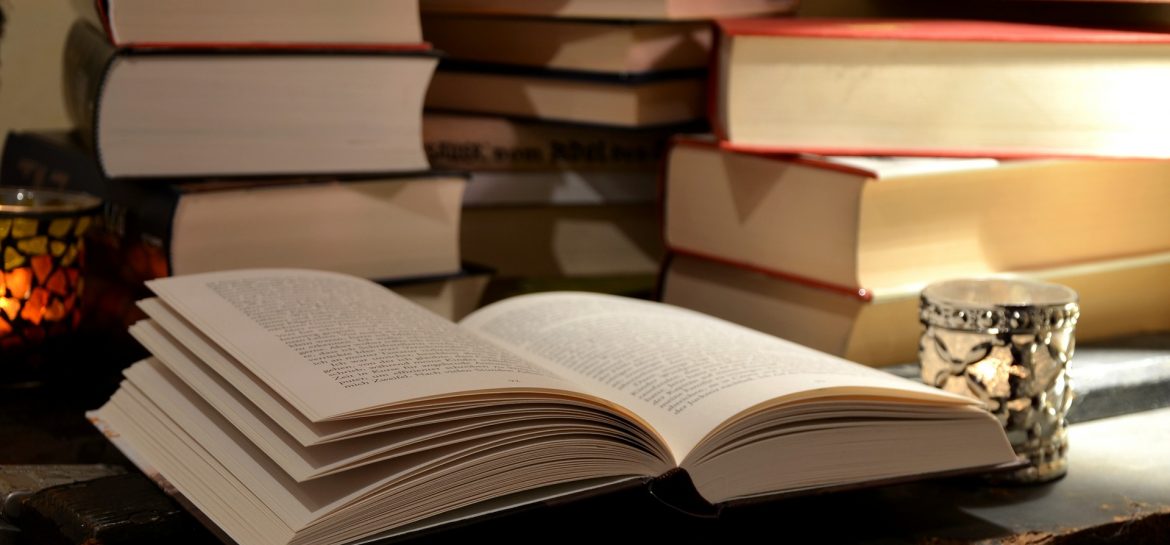 I skipped the TToT link-up last weekend.
I never do that.
It wasn't for lack of intent or even lack of things for which to be thankful. It was simply the result of circumstance. So this week I have plenty to add. Mostly I think I've found many ways to acknowledge small bits of progress (remember that word – my long lost One Word for the year?) and to keep the positive efforts flowing.
Let's start with the beauty of autumn. I love this season most of all and even if the color changes aren't the most spectacular around here this year, I still love everything about this particular season and its changes. The empty corn fields across the road from us struck me as particularly interesting this year…there's a post coming, I think.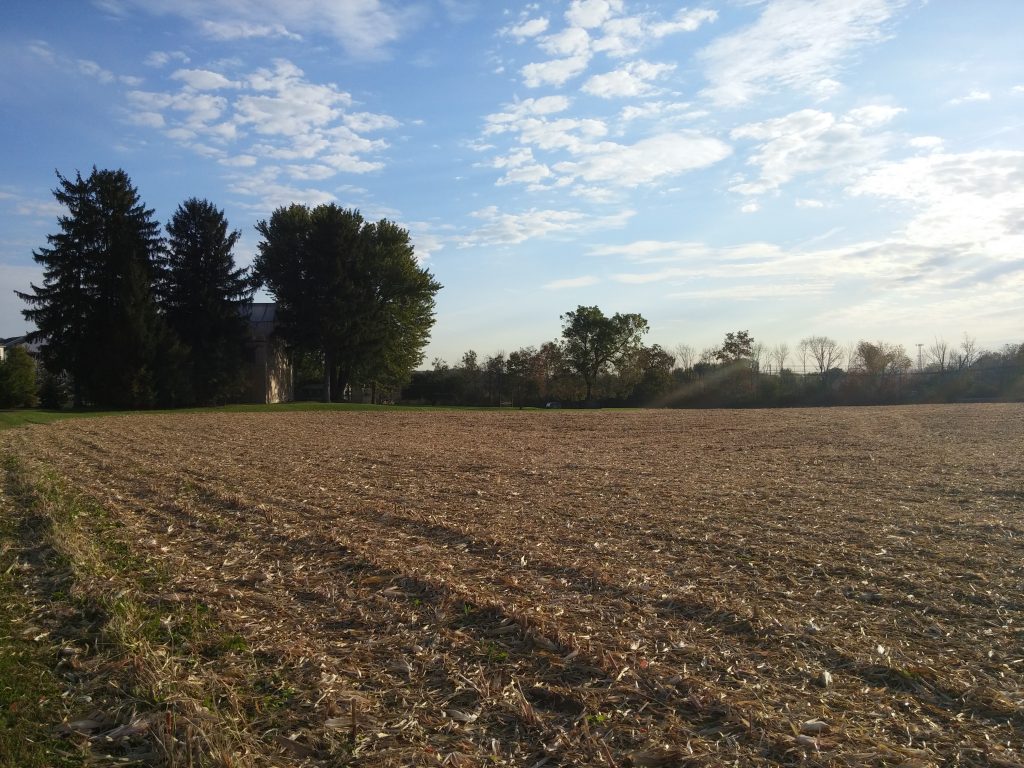 Next, I'll add the overwhelming fatigue that knocked me down last Sunday and Monday is gone. Fatigue is a lousy thing. I sometimes think I prefer pain to fatigue; pain is manageable but fatigue is often difficult to overcome. I did all the right things, though, including accepting that I was fatigued, letting go of things that were simply not going to get accomplished, and not beating myself up about it.
My efforts in Clark's anti-gravity challenge are paying off, even if in extremely small measure. Coming home from a weekend trip and not finding five to ten extra pounds on the scale come Monday morning? Very good thing. Here's hoping that little bit of success this week sparks some more motivation.
Sailing ships and eliminating shoulds. Lizzi knows what this is about. In some conversations we've had lately, I've become aware of how often I say I should or should not do something. That is detrimental thinking. So I'm keeping an eye on that and finding better ways to handle those thoughts. As for sailing ships, well, that's about sending out one positive effort every day that will help me get where I want to be. I think I've been doing that pretty steadily all week. It's a way of measuring progress, no matter how small, and some days that is extremely important to acknowledge.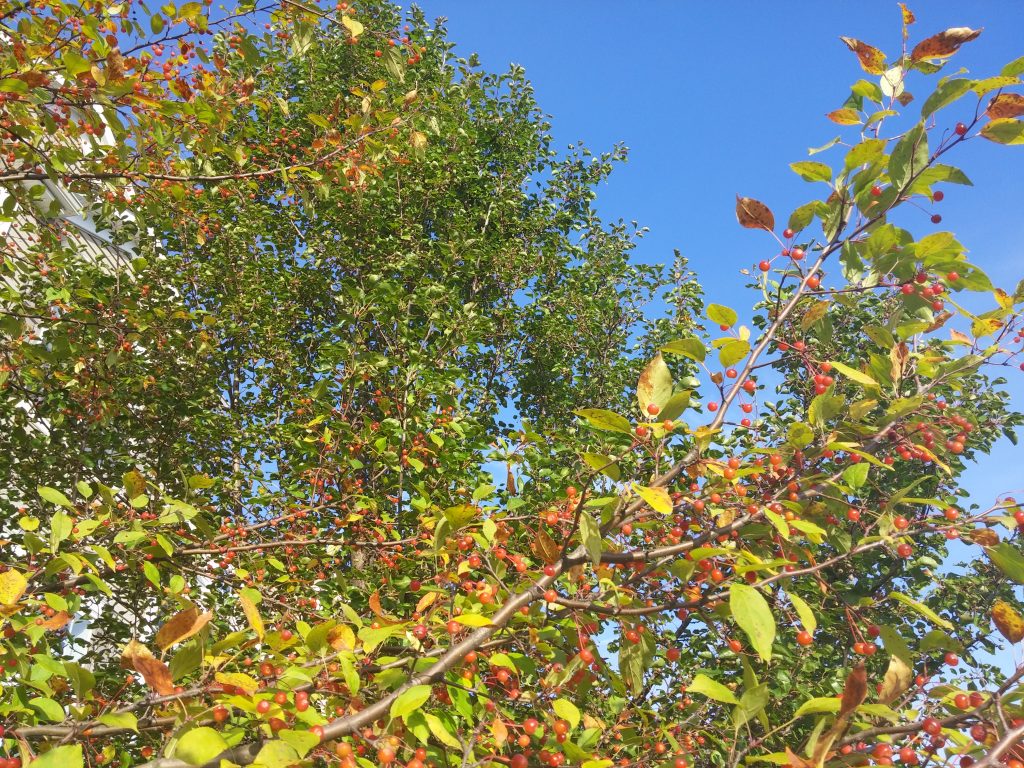 Writing. I'm doing more of it and I think the more I do the more the juices flow again. The only down side here is trying to find the time to sit and do it. As much as I'd love to agree that a writer simply finds the time, that is not always practical or possible. But I'm working on making sure it fits in the hours I have to give. Mostly, I've been posting some poetry, which is something I never do. So hooray for that.
Working. So in the last few weeks many (OK pretty much all) of the things I have worked to put in place to keep us moving forward (or at least not moving backward) financially have managed to not pan out. I've been battling an overwhelming feeling of hopelessness and frustration that every one of my efforts have been thwarted. But thanks to the sailing ships concept above, I've found at least one opportunity to replace some of that planning and am working on more. I am still quite nervous about the whole thing, but perhaps I've at least managed to get to a place where I feel like I can take back control and am not overwhelmingly terrified by the whole situation.
Zilla. Just everything about this little girl makes me happy and thankful. She's doing well in school, making great progress toward her goals and our goals for her, she's enjoying life, she's happy, she's positive about so many things. Someone said to me recently that your child's happiness goes a long way toward affecting your own. Very true.
The Fab Hub. Really ditto the sentiment for Zilla. No matter what, he is supportive and encouraging. He keeps me from jumping completely off the edge of rational and into the abyss of hysteria. He's the logical half of this partnership and he keeps me grounded. Even when things look the worst, he reminds me to keep my eye on the prize. And of course there's his coffee.
Well out of order here, but last weekend we enjoyed a short trip to enjoy a fun and kid-friendly Halloween adventure in Hershey. We had some fun in the amusement park, wasted too many coins on Whack-a-Snake and Skee-Ball, hung out at Chocolate World a bit, and visited the Hershey Museum. Grand fun. And check out these flowers we saw outside the museum – I've never seen such a vibrant color combo in one flower before.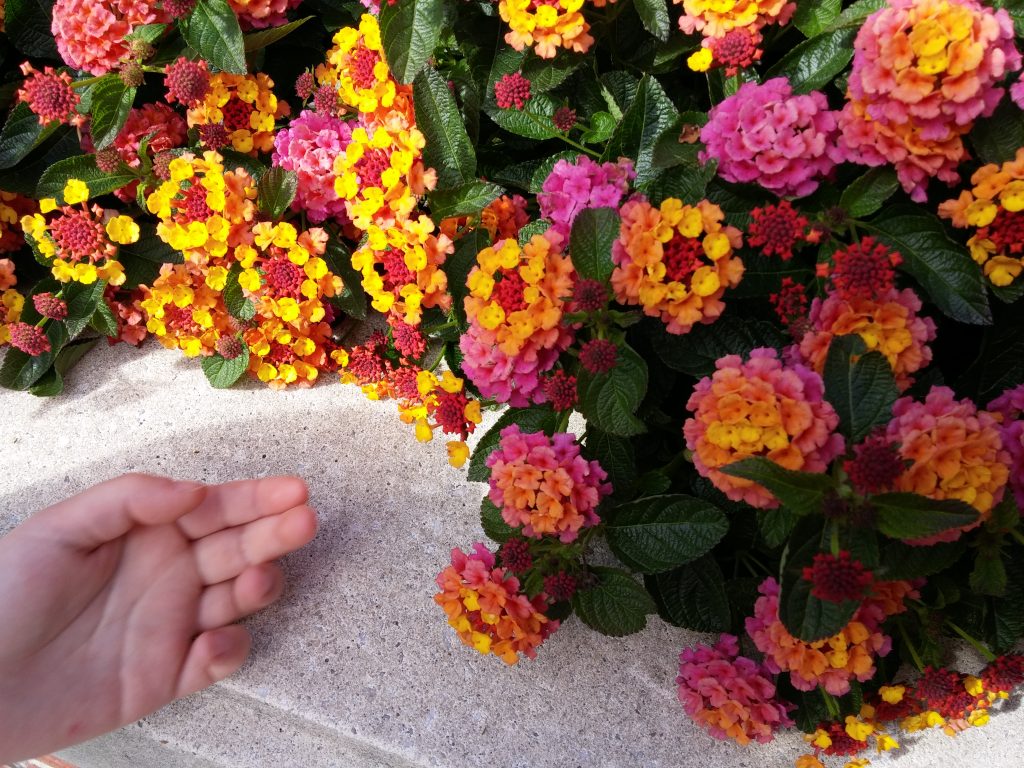 Getting away for a couple of days was just what we needed, I think. And besides all of that, we got to spend some time with my Mom, which is always great. We managed not to eat total junk all weekend – in fact, breakfast and dinner on Saturday were both awesome and really not all that huge or unhealthy. Delicious.
Finally, a last-minute add of thankfulness for some recent communication with a former colleague and I suppose current friend. Sometimes we don't quite realize that we are not alone in our feelings and experiences until it's clearly pointed out for us. That's true for me right now. And I'm glad to know that others go through the same feelings of doubt and uncertainty. It's very helpful. But to know the successes they have found in the aftermath is even more encouraging.
OK, I'm sure that's ten – do I ever even count any more? I have many more things I want to do today. So I'm out.
~~~~~~~~~~~~~~~~~~~~~~~~~~~~~~~~~~~~~~~~~~~~~~~~~~
Your turn: What are you thankful for this week?
You know the drill – share 'em or link 'em!
<a href=" https://summat2thinkon.wordpress.com/ten-things-of-thankful/ " target="_blank"><img src=" https://summat2thinkon.files.wordpress.com/2015/06/10thankful-banner.jpg?w=700?w=700″ alt="Ten Things of Thankful" style="border:none;" /></a>
Your hosts
Join the Ten Things of Thankful Facebook Group