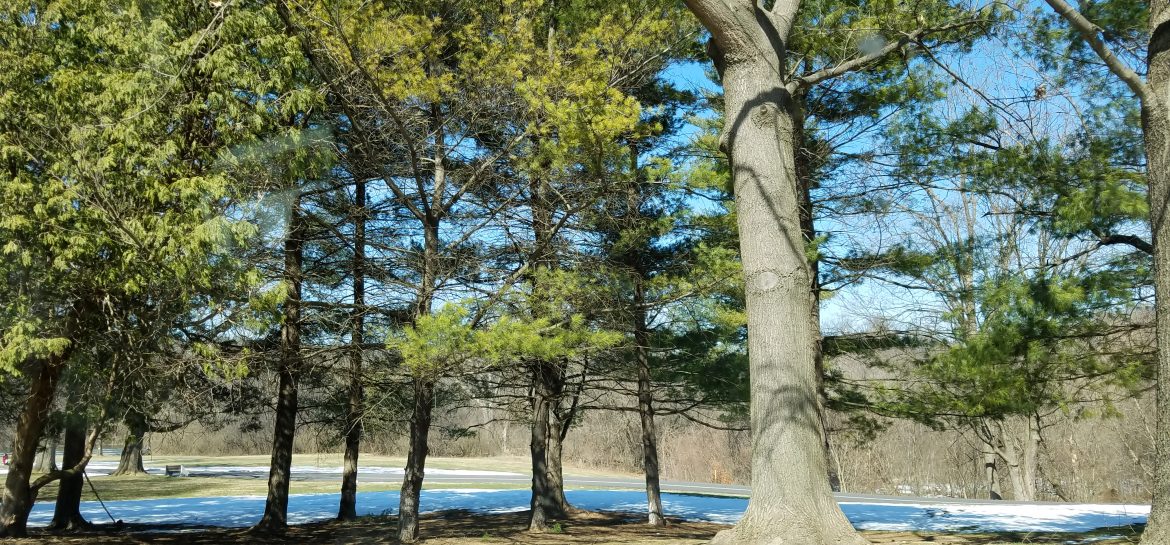 I can breathe.
Seems obvious, right? But no. Ever since we all had the flu back in mid-February, I have been unable to breathe well for one reason or another – upper respiratory congestion, lower respiratory congestion, whatever. Over-the-counter nasal spray has become my close companion, but while it provides blessed and instant relief, that stuff is baaaad for you. Anyway, I stopped using it a few days ago and after a couple of really tough days of withdrawal from the stuff, I am happy to report that I can breathe again without help from a nebulizer, nasal spray, or anything else.
It feels great and I'm thankful to be breathing normally once again.
On the subject of breathing…
Last week went by fast – like really fast. No idea why. Time flew and it felt like none of us here could catch our breath for even a second. But we made it through. Yay. When we got to the weekend, we took the opportunity to – yes, I'm going to do this – take a breather and relax. We watched a couple of movies together over the weekend, made popcorn, did some reading, puttered around and did a few small chores. But basically we stopped to catch our breath.
Snow. Melted. One day last week I had a little car picnic in the park. That was nice. Now we're getting a few days of rain (which I love) to wash it all away and hopefully that will be the end of winter.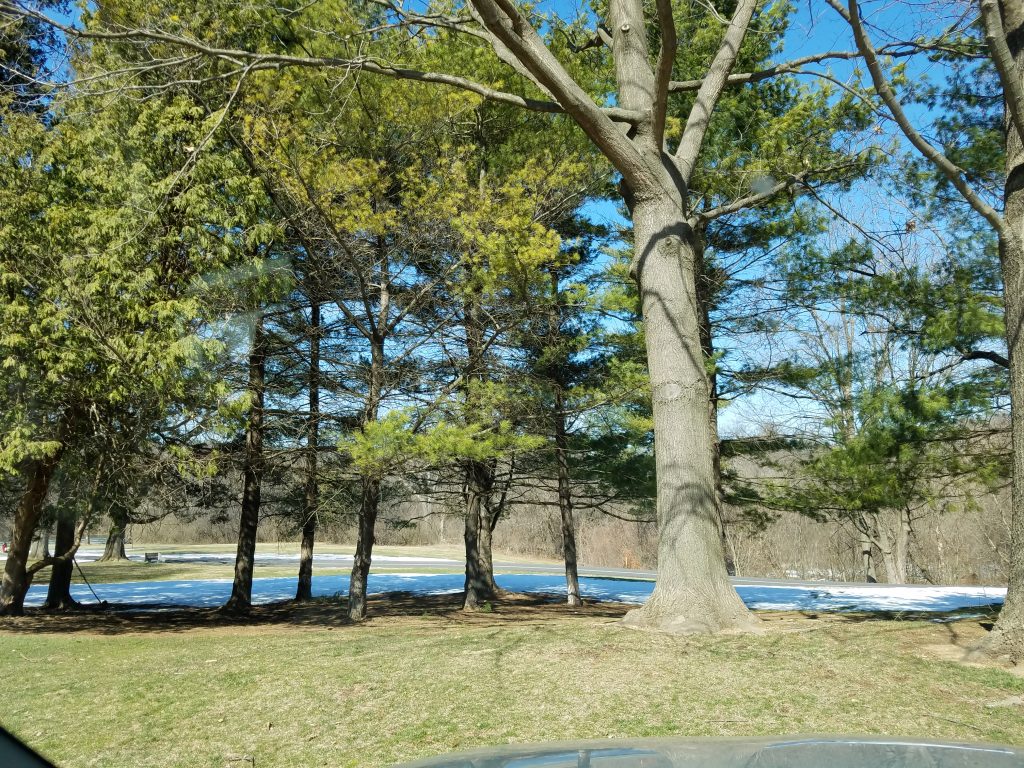 I survived a Twitter chat last week. Man, that stuff goes by fast. Do you have any idea what that feels like for someone wtih ADHD? Not all that fun, that's what. But I managed to make it through, got some good info, made some contacts, and now I can add that to my list of things I know I can do. Sort of.
Awesome food. Tried a couple of new things this last week and one in particular was quite delicious – aloo gobi (spiced cauliflower and potatoes) in the slow cooker. Served it with warm naan bread and a cucumber raita on the side. Amazing. And wicked easy. That will show up again. Also, I'm thankful for the eight quarts of homemade vegetable broth I made and put in the freezer this weekend, plus another four quarts of chicken broth from last week. That will keep us in good shape for a while.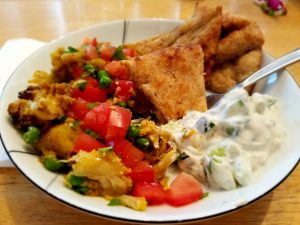 Zilla had a great and busy week. Her second trimester report card was amazing, proving once again that hard work pays off. She's proud of her accomplishment and so are we. Her school finished up their COGAT testing last week and she made it through with ease. I'm thankful she didn't have any real trouble with the testing scenario. Speaking of testing, last week our girl tested for her brown belt in karate. I KNOW! Hard to believe she's been doing this for two years already and that we've hit this major stage of her training. She did so well at her test and at the graduation demo and she is SO happy and proud of herself. This one made her pretty nervous for a number of reasons, but she made it through and she's on her way to the next big goal. With that new belt comes a new class time and the three of us are beyond happy about this. The 4:30 PM start time we've had for the last year or so has been a tough one. The new class time is two hours later which means plenty of time between school and karate for homework, dinner, etc. It will be a tight squeeze to get home and get her into bed on time, but we're equal to the task. This time change is going to be so good for all of us.
This thing…my jar opener. Pretty sure it was a wedding gift and went unused for a very long time. But for some reason, the orange juice we buy is very difficult for me to open. Maybe it's my RA. Maybe it's the bottle design. I don't know. OK, it's probably the RA. But I do know that I'm pretty happy to have this little guy to help me out on days when my hands don't want to work.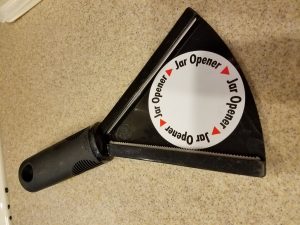 I am thankful again for opportunity this week. I wish I could say I'm thankful for definitive circumstances resulting from those opportunities, but at this point I'm glad for opportunity.
I've finished writing a couple of things, submitted a couple things for publication, and am continuing to move forward in that realm. I also chose not to finish writing a couple of things last week. I skipped a couple of my regular(ish) postings, but the words just weren't coming and I chose not to force them. I'm sure much had to do with the focus on Zilla's testing and graduation. Life is often a question of making choices and prioritizing. I did exactly that and did so without guilt.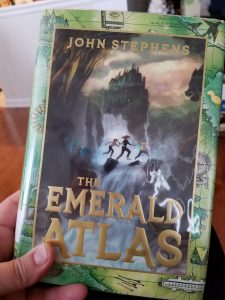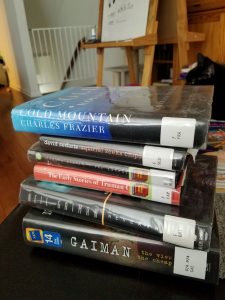 I'm thankful for time to read and for a huge pile of "to be read" items. For many years I put reading on the back burner and did not make it a priority in my day. Changing that has been a great thing. I have this pile from the library, plus three others I had in my library bag and forgot about! I also have about six other things I'm working on for reviews, etc. Plenty of options.
And Zilla – what a reader she is! She just finished a hefty book – 400ish pages – and immediately started in on a 585 page one. Yes, she's definitely reading up a few grade levels. This last book was a bit of a challenge for her, but she kept right on going and has learned a few new words and ways to use language in the process.
Speaking of reading, I have some homework assignments to do! Last week I found out about some online courses available through our public library. Free courses. Yup, free. All that is required is a valid library card. I was delighted to find some very interesting and helpful options there, so I signed up for one immediately, even though it had started a week earlier. (Had to check out two more library books for homework.) I'm nearly caught up already and have until Wednesday until the next lesson opens, so I'm in good shape. I also re-committed to another course I signed up for forever ago and didn't finish. Thankfully, I have lifetime access to the materials and modules, so I'm back in the swing there, too.
I'm thankful for Zilla and how much she's learning lately. She is really growing up – which is both joyous and a bit bittersweet – and it is so much fun to see her changing and learning. She's just so much fun to have in our lives. She has also been super helpful around the house, pitching in with small chores, meal selection and preparation, packing her lunches, and more. Such a big kid.
I'm thankful for my husband, my best friend. Mostly for putting up with me. I'm thankful that even when things are feeling a little tough, we are still a team. I'm also thankful that when he's being sweet he knows not to bring me things like flowers that aggravate my allergies and end up dead. I'll take a Diet Coke to go with my popcorn any day!
So. Several weeks ago, I entered my first writing contest. I figured why not? There were LOTS of entries – 100 heats, each with about 30 participants assigned – and didn't make it out of the first round. However. I DID receive an honorable mention, so I'm actually pretty happy about that. I've received feedback from fellow participants and the judges, as well as a few of my friends and readers here, all of which has been helpful. Am I disappointed to get knocked out so early? Sure. But it was my first time in the game and I held no delusions of grandeur, truly. The top five in each heat moved on to round two, plus each heat had three honorable mentions. I was honorably mentioned. That's cool.
And so I'll write another day…
And on that note, I'm off because I have much to do and I'm a bit behind this morning.
Deep breath…onward.
~~~~~~~~~~~~~~~~~~~~~~~~~~~~~~~~~~~~~~~~~~~~~~~~~~
Join us to focus on the things in life that are good and make us feel thankful.
Link-up is still open through Tuesday! Click the image below and join us!