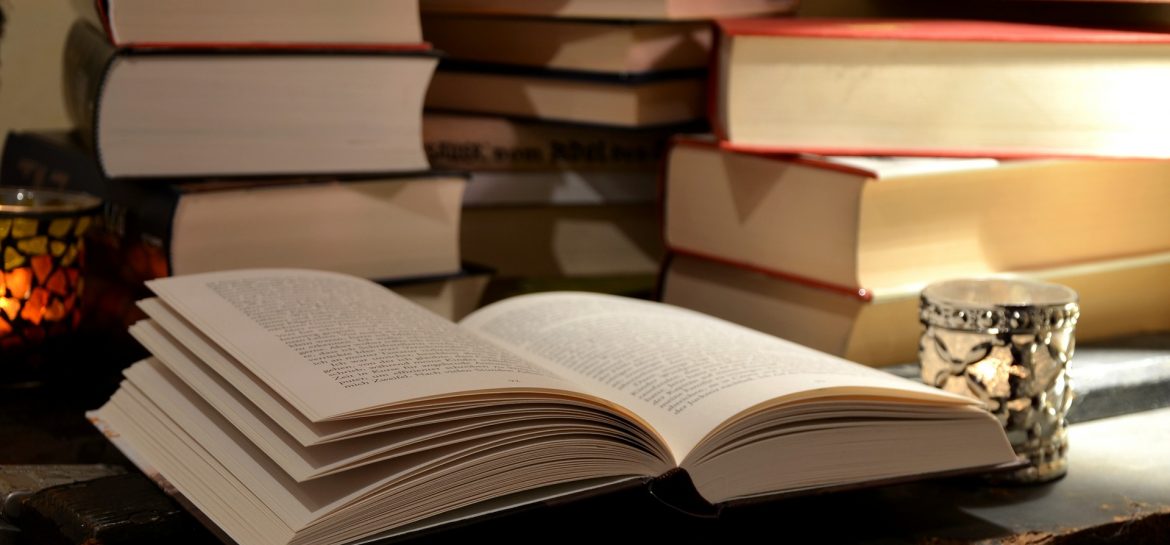 It's a good thing I didn't make a New Year's resolution to post here more.
Somehow I got out of the habit of delivering any finished product to this page. It's not for lack of ideas or inspiration; I have a ton of things drafted and scribbled in my notebooks. They somehow just don't make it to the page. If a messy desk is a sign of genius, I should be producing a whole lot more brilliance.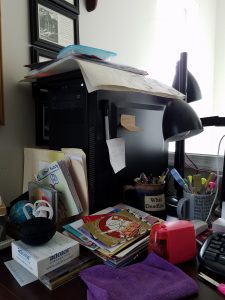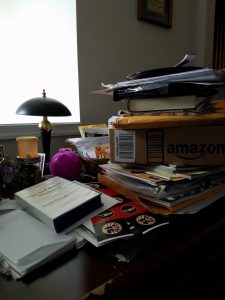 I think it's probably more that I got distracted (not that distraction is new for me). It goes without saying that the headlines of late have been pretty overwhelming and that has definitely affected my state of mind. I had to back way off of the Internet and social media. So if I seem absent…I am. On purpose. Let's call it self-care.
I've also been distracted by my physical state lately. There is no question that for the last week I have been in the throes of an active RA flare with a whopper of an eczema flare thrown in for good measure. A result of stress associated with the news? Maybe. Hard to say. At any rate, I've been trying to focus on what my mind and body need to be more at peace. It's only fair to say here how thankful I am that my Hub and Zilla have been more than understanding, even though I've been pretty horrid.
So what else has been going on…?
Well, I guess my biggest news is probably that I entered a writing competition. Yup, I did it. I just put up a post about that experience if you want to check that out. If not, then keep moving along…
I actually have been doing a bunch of writing, but so far most of it has been for my eyes only. What will become of these efforts is yet undetermined. But the writing feels good. I have started a ton of things to join my semi-usual link-ups – Six Sentence Stories, Finish the Sentence Friday, and Ten Things of Thankful. But despite those efforts, I haven't managed to join. I plan to remedy that moving forward.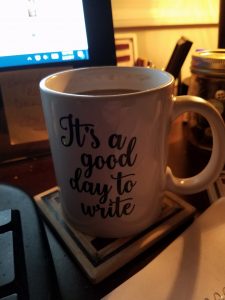 I've also been reading a lot more lately than I have in recent months. More self-care, I suppose. That feels amazing. I read three of Bradbury's books in a row – Dandelion Wine (a re-read), Farewell Summer (stunning), and Something Wicked This Way Comes (completely creepy in an awesome way). Right now I'm working on finishing The Martian by Andy Weir (loved the movie – book is even better) and I have about five things queued up to hit next.
Absorbing others' words has been good for my mind and my soul. I've joined a couple of writing challenges for 2017 and choosing books for those has been fun and also helped me continue to take advantage of the offerings at my public library. I'm doing a handful of reads for folks I know who have published their books and I'm thinking maybe I'll review those here on the blog and introduce you to to their work. Stay tuned.
What else?
Thanks in part to the accountability factor provided by the Graviteers, I've managed to hit a weight loss goal (again) so I think it's safe to say that I am steadily working toward my weight loss and health goals. I've been walking more regularly and upping my number of steps each day (insert eye roll). That feels good. Next stop: The Bowflex machine. I'm laughing just thinking about it, but sure enough one has joined the team in our basement next to the treadmill and I'm planning to get on there regularly. Weight-bearing exercise is important for women, especially as middle age creeps closer on the horizon. So I'm pretty excited about that.
Kidzilla is kicking butt and taking names with her school work and all related sub-topics. That little girl works so hard and loves learning so much. I love that she sees hard work has tangible rewards. And speaking of school, the Hub is back in school working on a new degree – one more step in this journey of career change that was forced upon us. He's also doing a fantastic job and just a few weeks in is already ahead of his projected timeline for this term. I am so proud of both of them. Shameless gushing. <3
I'm happy to report I've found my groove again in the kitchen. I don't know what happened, but I feel like I pulled away from cooking anything decent at home and we resorted to bring-home or go-to options far too often over the last several weeks. Granted, the holidays are a strange time and then we were all so sick during and right after Christmas and into January, so maybe that's just it. But even with my flares lately I've been happily tossing pots and pans around in the kitchen again. We've tried some new things and I've gotten back in my habit of rolling leftover parts of one meal into the next.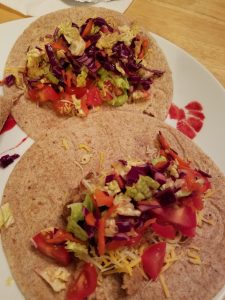 We've had pinto bean tacos with cabbage slaw, oven-baked lime butter cod served with the leftover slaw, some awesome Mexican street corn as a side – that was delicious. We tried mujadara – lentils and brown rice with caramelized onions – which is a new favorite here. Red beans and rice are always warming and satisfying, Salisbury meatballs were a hit for my meatball-lover daughter. Up tonight is a basic roast chicken because I'm out of chicken broth and need to make some. So I'm out to get that little bugger in the oven. Besides, I think I've rambled on here quite long enough.
I haven't counted or numbered, but I'm certain I have at least ten things in here. For these and for so many more…I am thankful.
I've missed chatting with all of you here. What's new and exciting in your life? What have you been doing the last few weeks? How are your self care habits? Talk to me…