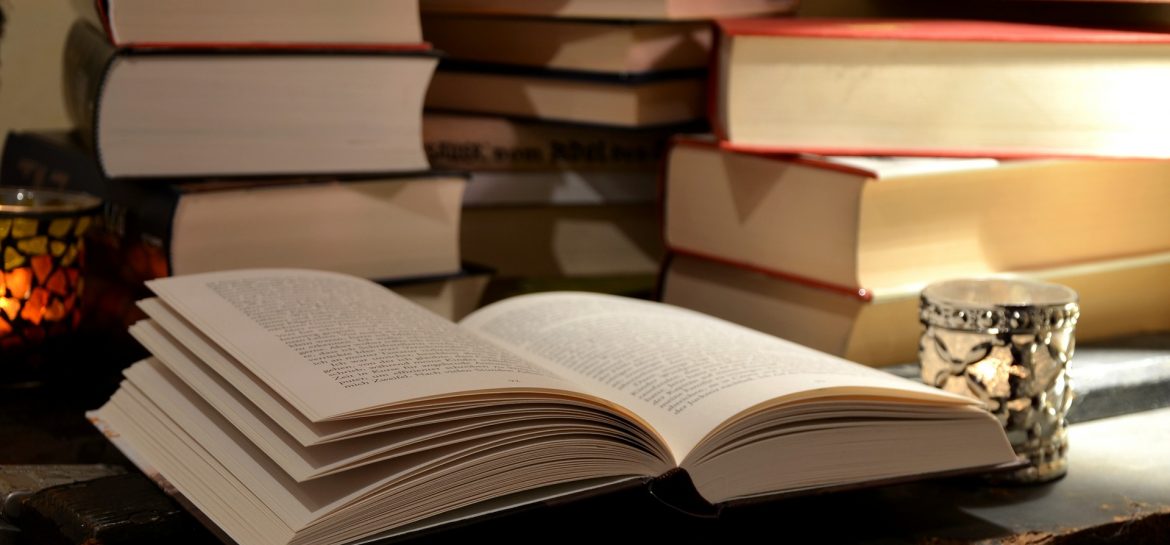 I finally have pictures of our trees.
The dearth of visual evidence of spring here hasn't been for lack of trying. Well, OK, it has been for a little lack of trying. I can't say I always remember to take my phone or camera with me when I take my walks, but I'm choosing to call that a good thing. Overall, though, it's been the fault of the trees that have been slow to come to bloom.
But now, at last, they are alive again! And yes, the sky here was exactly that blue today.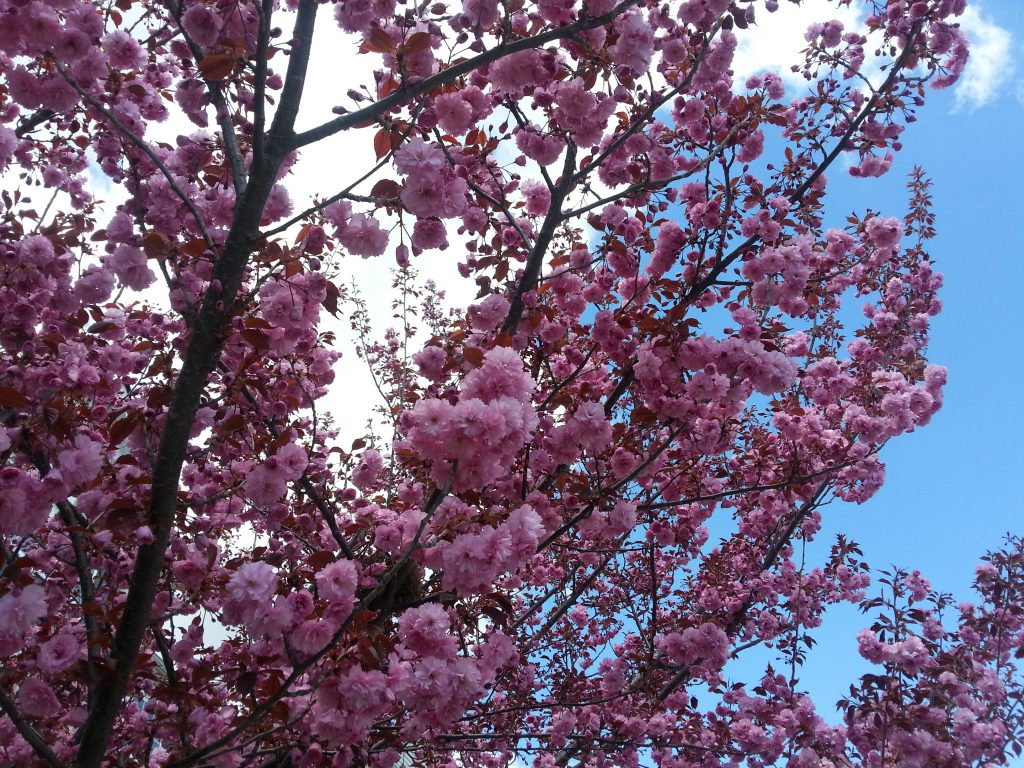 As for me, well, I've bloomed a bit, too…
I'm thankful that I have found words lately that needed to be said – some in person, some on the page, some in poetry and other offline writing. I'm glad for that. And I'm glad for a little bird or two who told me to go ahead and say what I needed to say. They were both right.
I am thankful for good friends. I am thankful for those who hold me up and encourage me and I am thankful for those who are patient when I get caught up in the stuff of life. I am thankful for quick texts, long chats, and so much more.
I am thankful that right now our Daughter is sleeping quietly, peacefully. She has had a long and rough week. She's tired. We're tired. Naps are good. And at the end of a long week, a bath before bedtime is the way to go. In a few minutes, I'll wrap this up and get into bed myself, pajama-ahhhh moment included.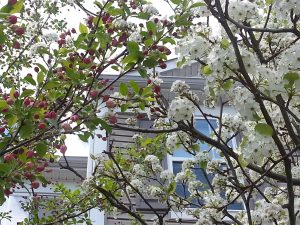 I am thankful for the end of the A to Z challenge. No, you're right – I did not participate. And I am really sorry that I did not keep up with the daily posts of all the bloggers I love. Friends, you know I adore you and love to read your words, but this girl could not keep up. So HUZZAH to all of you who made it through, or even made it some of the way through, and I'm so glad it's over because I miss you people in the regular routine of things!
I am thankful for Rotten Cats who help around the house. If nothing else, I am entertained. Perhaps they will make an appearance on the blog later this week.
I am thankful for a menu plan and home cooked meals, for enough food to eat when so many have none. I am thankful for long drinks of water, for clean water when so many have only dirty water to drink. I am thankful for Zilla's beautiful heart and generous spirit. She has amazed me many times this week alone with her desire to give to other, to care for others. I hope and pray that continues to flourish in her.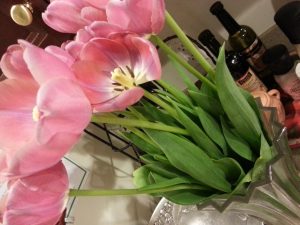 I am thankful that the Hub and I are still able to function and work together despite a week of disagreement and irritated bickering. At the end of the day, our branches may blow and bend in the wind, but the trunk is sturdy.
I have found progress along my life's path…new things to try, a little bit of work both practical and creative, new books to read, opportunities to explore, and realizations to embrace. I have found growth.
~~~~~
The answers to our questions and concerns about life are revealed. Slowly, perhaps, and in small ways. But eventually, things happen to make it very clear that you're on the right path, that you've made the right choices, that you surround yourself with the right people. And the rest?
It ceases to matter.
It becomes part of the growth process. Eventually these little buds and blooms will fall away and the strong green leaves of summer will replace them on the tree.
As it should be.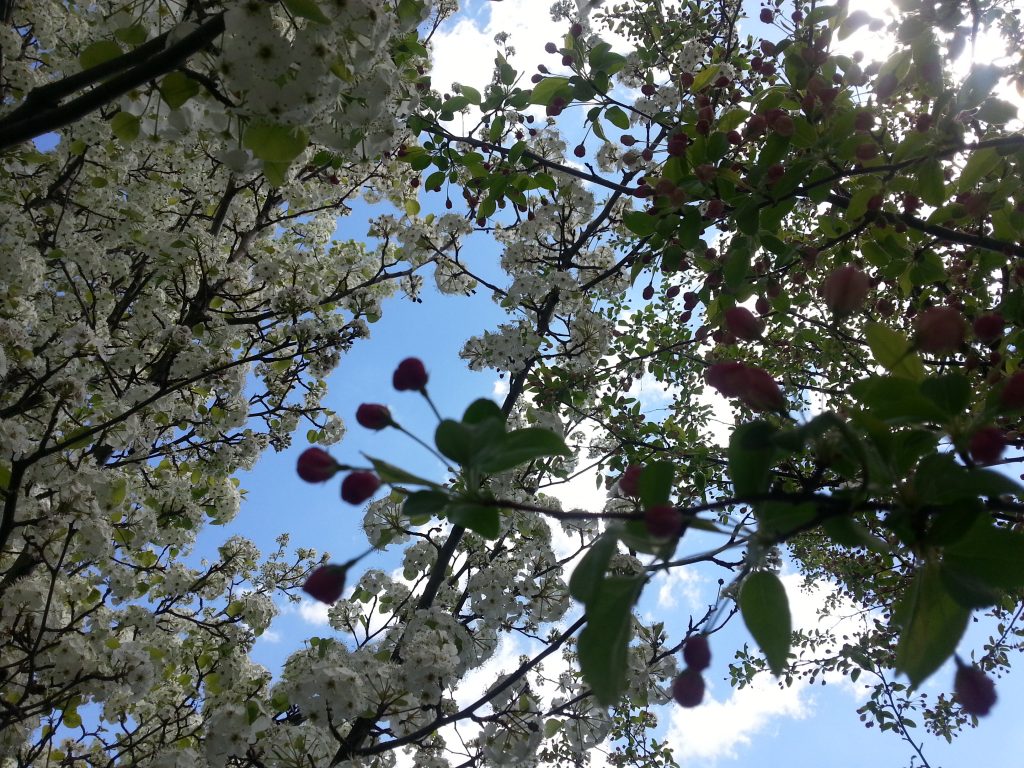 ~~~~~~~~~~~~~~~~~~~~~~~~~~~~~~~~~~~~~~~~~~~~~~~~~~
<a href=" https://summat2thinkon.wordpress.com/ten-things-of-thankful/ " target="_blank"><img src=" http://summat2thinkon.files.wordpress.com/2014/05/d8fc4-tenthingsbanner.jpg?w=700″ alt="Ten Things of Thankful" style="border:none;" /></a>
Your hosts
Join the Ten Things of Thankful Facebook Group